T1.37AAA $8.95
Watch cell tester
meter for checking all watch cells including silver oxide, mercury, zinc air, etc.
T1.37B $24.95
Used Ring cutter, Picture representative of stock

This tool is needed to cut a ring off a persons finger without hurting the finger. Often a gold ring or wedding band just will not come off. If that happens, this is the tool you need!!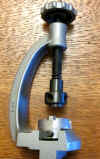 LG Watch Opener for waterproof cases
LG American made Rolex opener without rings. Rings must be ordered from a watch tool supply house. If you want to open a Rolex, you must have special openers or you can ruin the case back and destroy value!!! Also, can be used in conjunction with LG wrench T1.51A1 below to open conventional waterproof cases. shipping weight is 1 pound.
T1.37CC $19.95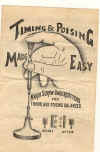 Balance Screw undercutter - remove weight from screws to speed up watch
If your watch runs slow with the regulator on full fast and the hairspring is not damaged - you need to remove weight from opposite balance screws.
T1.37CCC $14.95 reduced price

Another type of balance screw undercutter
If your watch runs slow with the regulator on full fast and the hairspring is not damaged - you need to remove weight from opposite balance screws. Has 7 cutters on base to remove metal from most size pocket watch screws.
T1.37D $7.95

graduated hole block for staking and other operations. Fits in bench vise.
T1.37E $69.95
K&D Quality Bench Winders
Set of three old vintage K&D

watch bench winders

to use to wind the movement when out of the case. Covers almost all pocket watches and some wrist watches.
T1.37EE $19.95

Watch Hand installation tool - wrist and pocket - important tool for proper hand installation. Six different size heads, 2 on each of three metal tools.
Use these stakes to press on wrist and pocket watch hands, 6 heads to handle most every situation. This tool makes the job easy. Fitting hands is one of the more important tasks. NEW.
T1.37EEE $5.95

Vintage tool for holding rings, etc for polishing. Saves the fingers!
T1.37F
was $9.95 Special $7.95

brass pin vise
Old vintage BRASS two-ended vise for holding broaches and other round stock such as PW stems, etc
T1.37G $6.95
Steel pin vise
Vintage STEEL two ended pin vise. Like above
T1.37H
$15

balance screw pin vise (specify small for wrist watches or large for pocket watches)
Vintage precision pin vise. This type is used to hold balance wheel screws as they have to be removed when putting timing washers under the screw. New cost about $50 each.
T1.37I
$7.95

representative picture
Vintage brass handle pin vise. Use to hold broaches, stems, etc. Three to four inches long.
T1.38
$4.95

Quality made single end pin-vise, similar to picture to use to hold small broaches, files, stems, and graver ~3.5-4.5 inches long
T1.38AA $8.95

6 assorted used vintage small files- triangular, round, flat, etc useful for various work on watch cases, to make parts, etc. Similar to those pictured. These Swiss and American files are quite expensive to buy new and one would cost more than all six!
T1.38A $12.95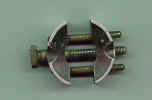 Nice vintage two sided

movement holder

will hold wrist to about 12 size pocket watch comfortably. compare to Swiss at $45
T1.38AAA SOLD
Same as above, but by Levin, who made top quality tools, lathes, etc
Levin, reversable movement holder
T1.38B SOLD
Picture Representative of device
Good vintage Canon Pinion tightener tool. If your watch runs erratically slow, a slipping canon pinion may be the problem. The canon pinion is under the dial and fits over the center wheel pinion and allows the hands to slip when the watch is set. If insufficient friction is present, the canon pinion slips and the hands do not move. (Several varieties, will not be exactly like picture.)
T1.38C $29.00

typical of our stock
Vintage USED Sleeve wrench, 10 arms and all are good, though some may show some wear. This tool is used to remove the sleeve out of the pocket watch case. The sleeve holds the stem in place in American pocket watches. This tool is also used to adjust the depth of the stem. This adjustment is needed if the watch is not winding and setting properly.
T1.38C1 $19.00

picture is typical of stock
Same as T1.38C, except one or two smaller arms is worn, but good value
T1.38CC
SOLD
Similar to above, but 14 ARM
Vintage 14 arm used sleeve wrench. All arms except the 3 smallest are in good condition. Made in Germany.
T1.38CCC
SOLD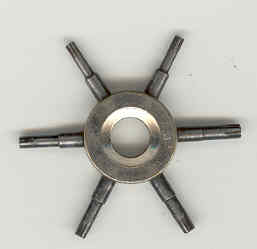 New Old STOCK, Vigor 6 Arm Sleeve Wrench
T1.38D
$9.95
Very Small reaming broaches
Six small watch broaches used to ream out PW second hands and to enlarge other small holes.
T1.38E Obama style antique jewel hole gauge SOLD
ask for picture if you are not familiar
Jewel hole gauge that will measure from balance jewel holes to pocket watch plate jewels. A hard to find tool.
T1.38F Seitz jeweling tool SOLD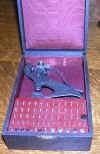 representative picture
Used Seitz jeweling tool. CD with Seitz Jeweling Catalog included. Shipping weight 3 pounds. EXTRA POSTAGE WILL BE REQUIRED. for Foreign buyers , so contact us first for shipping quote. Smallest reamer is broken, missing about 3 stumps.
T1.39 SOLD
Typical picuture
Vintage bench key with three male and three female posts for winding most pocket watches from 18 size to 6 size.
T1.39AAA1
watchmaker files/diamond
SOLD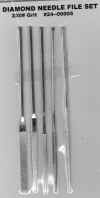 New small files with diamond dust embedded. These are small files of the type used by watchmakers. The addition of the diamond dust makes your work much faster even on hard to cut materials. Every metal worker, casemaker, and watchmaker needs these!! Reduced!!!
T1.39A
SOLD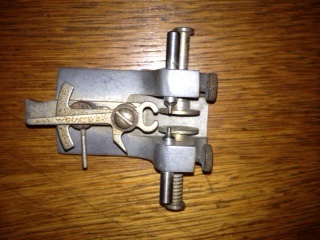 A very unusual vintage balance wheel poising tool. Also used to straighten the balance wheel. A watch tool collector's show piece!!!
T1.39A1 $9.95

Movement holder 4n1 plastic ends, vintage, made in Japan
T1.39A12
$49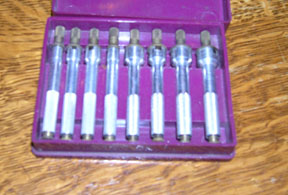 Picture representative - different color containers are in stock
Set of 8 Swiss mainspring winders needed to wind mainsprings to insert into mainspring barrel. Wrist watch size. Sizes 5.6 to 10.0 mm.
T1.39AA
SOLD
canon pinion tighening tool. If the canon pinion slips, the watch will loose time inconsistently.
T1.39AAA
Pocket and large wrist oiler for balance jewels
$9.95

Genuine Vigor Swiss balance jewel oiler. The tiny wire is protected by reversing the end with the wire. The oiler is so small that it forces oil through the balance jewel hole. NEW
1.39B $5.95
crystal gage

GS crystal gauge
Crystal ga
uge for measuring fancy and standard watch crystals. Very useful tool!
T1.39BBB $15.95
wrist watch
crown thread reamer and taps
Often the threads of crowns are damaged or not the exact size. This set of reamers and taps can fix many wrist watch crown threads
T1.39C $6.95

rubber pocket watch case opener - NEW flexible and work very well!! This gives your hand the leverage needed to open screw back cases.
T1.39D-18s $9.95
Only one ring, two shown for illustrations only, various materials, aluminum, plastic, or wood depending on what we have on hand
vintage 18 size watch assembly ring for pocket watches, two sided, best movement holders for assembly and disassembly.
T1.39D- 16s $9.95
SOLD
Only one ring, two shown for illustrations only - supplied in plastic, wood, or metal as available
vintage 16 size pocket watch assembly ring
T1.39D-12s
$7.95
Only one ring, two shown for illustrations only
vintage 12 size pocket watch assembly ring
T1.39D1 reduced!!!
$19.95

Genuine Vintage Bulova accutron "L" opener. This opener supplied by Bulova opens the Accutron 214 and 218 and does not scar the case. Best opener for accutron!!
T1.39E
$19

Set of vintage aluminum watch assembly rings wrist size up to small pocket watch especially made for American movements. Sizes 0, 3/0, 5/0, 6/0, 10/0, etc.
T1.40 $15.95

as pictured or similar
Nice vintage screwdriver sharpener. Place screwdriver in holder and run over stone to sharpen.
T1.40A $19.95

typical - Note some have wood handle
vintage bench key for keywind watches - will fit most keywinds, spring loaded
T1.41

SOLD
typical
This is a nice K&D pocket watch mainspring winder in very good condition that came in the plastic box. Some may have different inserter style.
T1.41AC
$39.95
S&B Canon pinion tool
Does your watch run but the hands do not move. You have a slipping canon pinon. Here is a vintage tool for closing the canon pinion.
T1.41AAA $99

K&D pocket watch mainspring winder. Insert in bench vise to use. Use in 18, 16, 12, 10, 8, 6 size
Quality made K&D vintage mainspring winder set without paper box or wood insert. This one is a quality made vintage model that fits in the bench vise. Can be used to insert most pocket watch mainsprings. Has two winders and 6 barrels.
T1.41AAA-1
$149
K&D Pocket watch mainspring winder set 128 in original Box - use in vise, three winding handles and 8 barrels cover most everything in pocket watches and larger wrist
T1.41AA $49


Complete set as shown to left
remover with one punch to show details
Vintage Quality!! Complete set of Wilson roller removers that will remove roller tables from wrist to pocket watch. In wood container.
T1.41A1A $24.95

one remover with one punch only
Single pocket watch roller remover with one punch, no wood container
T1.41A SOLD

POCKET WATCH CROWN REAMER!!!
Spring loaded tool that is used to open up the hole of pocket watch crowns so they will fit over the pendant post. One end of one cutter has chip, but still does a good job.
T1.41B
SOLD

Vintage mainspring winder in original box. Will wind springs into 18 size, 16 size, 12 size and smaller pocket watch barrels. Similar to K&D and barrel inserts interchange with K&D. In original old box!
T1.41B1 Marshall PW mainspring winder
SOLD

Nice Marshall Pocket Watch mainspring winder to wind in pocket watch mainsprings. Will work for most pocket watches from ladies to men's 18 size.
T1.41C $7.95

Genuine Bulova opener for wrist watches
T1.41
D$6.95

typical type
Watch opener that works well for either wrist or pocket watches. Unique design really helps get the job done on stubborn tight backs.
T1.41E
Classic case opener SOLD

Vintage case opening tool for wrist or pocket watches. Vigor, Maxall, or equivalent brands. Pic is representative of style.
T1.42 $24.95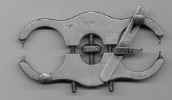 typical type, various vintage calipers in stock
POCKET WATCH hand caliper used to hold balance wheels and other wheels while straightening and poising (balancing)- new cost over $100!!
T1.42AA $24.95
Similar to above but smaller version for wrist watches
T1.42A $39

Bulova accutron meter needed to repair the vintage Accutron 214, 218, etc. Meter works, but does not appear to be accurate. Probably needs a new resister somewhere. extra shipping required. As-is, no returns!
T1.43 $29.95

Tweezers,
vintage with slider to hold small parts such as balance staffs, etc
Triumph very old Swiss tweezers with 7 graduated holes to hold wheels, staffs, and other small round objects. Has slider. We use to hold staffs while measuring their dimensions.
T1.43A two for $7.95
T1.44 SOLD

quality about 4-inch long
Sliding head pin vise is very useful as you can rapidly adjust the sliding ring to tighten on round objects such as broaches, files, stems, etc
T1.45 $15
K&D 123B adjustable wristwatch mainspring winder, adjusts for barrel diameters 4-6 MM
T1.45A $19.95

Set of four large diameter punches for clocks in aluminum container.
T1.46

Sold

Genuine Longines Admiral 1200 crystal remover and inserter tool = used to compress crystal
T1.47 Sold
Vintage working demagnetizer. Tweezers and screwdrivers need to be demagnetized so that screws do not stick to them. Also, the hairspring of a watch can get magnetized - this causes the watch to run VERY fast!! Just insert the object inside the tunnel, hold button down, and slowly draw it out. Repeat if necessary. Old, but works great!
T
1.47A $9.95

Representative picture, not all in glass bottles
Diamantine powder that is used to polish pocket watch staff pivots and other steel parts.
T1.47AA $6.95
BERGEON Style Plastic (white) blower
Used plastic blower, dust is the watchmakers enemy. You need to blow all lint off a movement while assembling. Also, blow off lint from dial and case. This blower works well.
T1.47C
$19.95
Antique watchmaker pliers
Antique slip ring pliers that are useful for holding broaches, parts, etc. The slip ring holds the part in place very quickly.
T1.47D $19.95 reduced!!
Representative
Nice Vintage Pocket watch jewel pusher. This tool is required to push out balance jewels which must be cleaned thoroughly for the watch to run accurately. Old, no longer made, may vary slightly from one pictured.
T1.41Da
T1.47D1 $9.95 reduced

Vintage screw back pocket watch opener, ONLY ONE IN STOCK
This very useful tool is a great help in opening 18 size and down screw back pocket watch cases. Has rubber ends to grip the back and bezel, but rubber is worn and needs replacing. You can put double sticky tape in ends to get great grip!
T1.47DD $9.95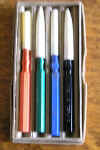 picture is typical of our stock
Set of four used vintage dip oilers for wrist and pocket watches.
T1.47E SOLD

Cleaning machine agitator
Watch cleaner shaft that attaches to small 2.25 in basket. (see 1.9 for basket) Can be attached to variable speed motor and shaft to make your own cleaning machine.
T1.47F SOLD

these Peer USA made pliers have many uses and can be used to remove waterproof case backs with slots. Also, to hold rings, plus many other uses.
T1.47G

SOLD
PEER Roller Jewel inserting tweezers
Peer 47-392 Roller jewel inserting tweezers, have special ends to fit roller jewels. Pesky roller jewels are a problem as they typically fly out of normal tweezers!!!
T1.48 SOLD OUT
watchmaker hammer with brass metal and plastic ends. You need this hammer to use with staking set to avoid damaging the punches. Use brass end!!
T1.48A1 SOLD

Vintage Pocket watch and wrist watch hand hole gauge - pic typical
A hand hole gauge is valuable in fitting hands. Simply place the hand over the correct tapered pin to determine the hole diameter or to compare hand holes quickly. We describe its use in our lesson #9.
T1.48A

SOLD
Loupes, clip on, same type as pictured EXCEPT single lens that fits over glasses.
1.48AA

SOLD
Used Double lens Bausch and Lomb clip on
T1.48AAA
SOLD
Single B&L lens like above, back in stock
Same as above Bausch, but only one

lens
T1.48B $9.95
reduced

Roller remover
Genuine Swiss wrist watch Roller Remover, used, good condition
T1.48C $6.95
Roller remover
Same as above, Except has chip
slight damage, at larger end, but still works fine
T1.49B

$14.95
SET of 7 Clock hole closing punches in wood container. Use to close holes when not enough wear to require bushings. A very good set of punches. .
T1.49BB $4.95
representative pic to show size
Old wood case vise similar to above, but smaller
T1.49C

SOLD

Vintage professional bench-style case opener. This type will open most any wrist watch screw back from the ordinary to the tough divers watches, etc.
T1.49CC Three gold filled bows

REDUCED

$8.95

Note color not correct, is yellow gold filled
YELLOW Gold filled bow for pocket watch, NOS. Pocket watch is for illustration only. Bow fits 12 size thin model cases best. Sorry, color not right, is yellow gold filled, NOT GOLD PLATED
T1.50 $49
Genuine Presto - Quality turret style hand puller that can be used to safely pull many hands without touching dial.
T1.50A SOLD

Hairspring leveler, several styles, pic is typical
Tool with slot at end to slip over hairspring to aid in leveling pocket and wrist hairsprings.
T1.51 $9.95

Drill index with twist drills included from 61 to 80
T1.51A $12.95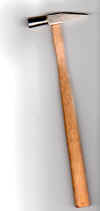 representative picture
Vintage watchmakers hammer for riveting and for miscellaneous other uses. Hammer marked Marshall, which was a watchmaker supply house. Round face of hammer about 3/8 inch in diameter.
T1.51AA1 SOLD
Carbide Drills

Carbide drills - drills through most everything!!
These high quality carbide drills are from 0.6 mm to around 2.0 mm. Carbide drills are very hard and can be used to cut hardened steel. Useful for repivoting clock and larger pocket watch gears and for general drilling. These would cost about $80 from most sources!
T1.51A2 SOLD
Elgin jewel shock spring inserter
Genuine Elgin marked tool for removing and inserting Dura jewel shock spring (these are balance wheel jewel shock springs)
T1.51A3

SPECIA

L $24.95

Pocket watch bow closing pliers
Bow closing pliers, vintage. A must have tool to close the pocket watch bow, or tighten it if loose.
T1.51A4
$49.95

Genuine USED WatchCraft Swiss made Jaxa type watch case opener. These wrenches have three adjustable pins that fit the slots in screw back cases. Three sets of pins included. (only 1 available).
T1.51A5 SOLD
LG - Made in USA
Professional LG American made wrench for opening screw back cases. Used. 1 available
T1.51A6 $7.95
representative picture

Used Inside-outside vernier calipers. German, French, Swiss, good used!
T1.51A7
SOLD
Available Again

Very hard to find vintage tool. Only one in stock!!! Box not included.
Presto #5 Roller Jewel Inserter. Much better than having them jumping out of your tweezers!!!
T1.51B SOLD
Older professional case opener that will open most screw back wrist watches. This is a very rugged and heavy tool that will open the tough waterproof cases with notched back.
T1.51B18 $24.95
18s - Picture is typical

Vintage bench winder that will wind and let down power of 18 size pocket watches. Two ends
T1.51B16 $24.95
Bench Key - a must to let down power of a watch
16S - Picture is typical

Vintage bench winder that will wind and let down power of 16 size and 12 size pocket watches.
T1.52 $5.95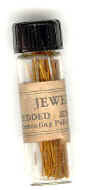 Representative
Roller Jewel "cement," is really shellac. Heat the roller table and apply to hold in roller jewel. This is the classic method to cement roller jewel into roller table. Flaked shellac works better than the older shredded shellac, so we supply mainly the flaked. Some watchmakers use a controlled hotplate instead of the alcohol lamp for better control of heat.
T1.52A
SOLD

Vintage Press made by Benrus to assist in opening and closing waterproof snap back watches. A press is needed to snap together these watches as well as many of the modern quartz watches.
T1.52B SOLD

PRESS ONLY without box or plastic disks
This press is useful to close cases etc
T1.52C $14.95

Vintage USA made four in one wrist watch and small pocket watch movement holder. A quality made holder!
T1.52CC SOLD

Sturdy vintage heavy duty two-sided movement holder that will hold up to 18 size large pocket watches and also wrist watches. Order quick as only one in stock!
T1.53C SOLD

Watchcraft poising tool with jeweled jaws that are in great condition - near perfect ruby jaws- A poising tool is needed to "balance" or poise a balance wheel similar to balancing a tire. Railroad grade watches were adjusted to position. Part of the process was to poise, ie, "balance" the balance wheel by either removing a small amountof weight from a screw or by adding weight using washers.
T1.53D SOLD
Watchcraft poising tool, BUT ruby jaws are missing. see above picture. NO wood box.
NOte, even though the ruby jewel jaws are missing, you can use the steel jaw supports for poising. With bubble level.
T1.54 SOLD OUT
six upper catch case springs for hunting case pocket watches.
T1.54B SOLD OUT
six assorted lower, lift, case springs for pocket watches
T1.55 SOLD
Vintage poising tool by

Levin

, the top maker of quality watchmaker tools. This is a large tool with ruby red jaws plus a bubble. A similar one today would cost hundreds of dollars.
T1.56 $9.95

Assorted one dozen new and used dental drills, very useful for watch and clock repair
T1.56AA11 KT-22 watch stem grease $6.95

lube grease for winding mechanism of wrist and pocket watches, stem, clutch, clutch lever, detent, etc. Also, good lube for small clocks and instruments, and good for sealing cases.
T1.56A dozen spade drills for clock work $8.95

dozen spade drills that are much better than twist drills for clock work etc
T1.56A11 SOLD
Schwartzchild jewel hole gauge
Nice aluminum jewel hole gage similar to seitz hole gauge. One piece with multiple stepped surfaces on each end.
T1.56A2
SOLD

Quality instantaneous demagnifier by Magna-flux made especially for watchmakers. These quality demagnifiers are need to demagnetize screwdrivers, tweezers, etc. Also needed to demagnetize the hairspring, which will cause the watch to run very fast.
T1.56AA
SOLD

crown gauge to measure the thread, tube opening, diameter, etc. A very useful gauge that will pay for itself if you have a lot of loose crowns.
T1.56BB SOLD
Used Swiss #3 general purpose tweezers for watch repair - good points
T1.56BC
SOLD

Dumont Swiss #4 Stainless tweezer with fine points for hairspring work and for picking up small parts.
T1.56BBC SOLD
Genuine Favorite SWISS #2 steel, this is the most used general purpose tweezer for watch repair
T1.56C
SOLD
click image for good picture
Quality Peer Swiss made stainless tweezers #6 very sharp points good for hairspring work, looks like new
T1.57 $14.95

Screw slot file - fix those screw slots!! Typical pic.
SWISS Screw head file

, used, average condition may have a "nick" out of the edge. You need this file to clean out the screw slot for pocket and wrist watch screws. Also used to make slot for new screws. Can be used to lighten the balance screws to make pocket watch run faster. (However, a screw undercutter is recommended for that job).
T1.57A
$5.95
Watchmakers Tweezers
Used 3C style
T1.58 $9.95

same style as Dumont #8
Very heavy Swiss #8 tweezers for heavy work
T1.59 $4.95
Used 3C General purpose tweezers
tweezers, steel used
T1.59A $9.95
T1.59AA $7.95
Tweezer similar shape to above
New, stainless, nonmagnetic quality tweezer similar to Dumont 3C above. This tweezer is a great general purpose tweezer and since non-magnetic does not attract screws etc
T1.59B SOLD

Typical, for winding and letting down mainspring of clocks, saves knuckles and fingers if mainspring should break when winding!
Used Clock bench key similar to picture except ends nickel plated with ends marked 4 and 6, which seems to be the diagonal of the square in mm.
T1.60 $8.95

typical
Movement gage

.

A MUST have tool.

You use this gage to measure the size of all watches, both Swiss and American. Just measure the diameter across the dial and observe marks to indicate pocket watch sizes from 18 size on down to wrist watch sizes like 6/0, etc. On the back it can measure Swiss sizes, typically measured in lignes. Gage shown is typical, the one you receive will not be exactly the same, tut will be aluminum with black background.
T1.61

SOLD

wrist case opener
This rubber ended tool is used to help open screw back wrist watch cases when they are not super tight.
T
1.62 SOLD
Note Shipping will be around $20 extra
L&R tickoprint transistor TP watch timing machine. These cost about $2000 or more when new and were the top of the line about 25 years ago. Times most all mechanical watches plus accutron. AS-IS, with pickup. Will only ship in USA. Fix or use as spare parts for your machine.
T1.63
Genuine Presto pocket and wrist hand remover, just got a couple more in stock!
$19.95

This is a good used hand remover, vintage. Presto #1 or #2. Works great for both wrist watches and pocket watches.
T1.63AA1 $6.95

Florida pithwood is good for cleaning out pinions, holding parts, movements, etc.
Assorted used - 6 pieces, mostly larger diameter
T1.63A1 SOLD
round nose pliers
USA made vintage round nose pliers useful for bending inner coils of mainsprings for watches, and clocks
T1.63A2 $19.95

box not included
Genuine vintage Presto #3 sweep wheel remover by G. Gustafson, USA made
T1.63A $15.95

Set of 7 vintage clock hole closing punches
Set of clock hole closing punches that can be used to close slightly worn bushings. Not recommended if the bushings are badly worn, then you have to re-bush. In wood and plastic container.
T1.63AA SOLD
V-slot pivot gage
Vintage v-slot graduated pivot gage for quickly measuring the pivots of balance staffs etc in hundredths of a mm (from 6/100 to 29/100).
T1.63B $15.95

watch and clock hand puller
Genuine vintage K&D pocket watch hand puller, works well, and will also pull off small

CLOCK

hands.
T1.63C
SOLD OUT at this time

Canon pinion puller, M&S patent, Also will pull hands, etc.
Vintage tool to pull the canon pinion on pocket and wrist watches. The canon pinion must be removed before the center wheel can be taken from the plate. The canon pinion often must be tightened if the hands of the watch do not move or if the watch runs erratically and always slow. These were always expensive. Good condition.
T1.64 $49

K&D 50B

for wrist & pocket watches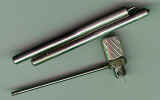 watch staff remover

to be used in your staking set to safely remove the balance staff without warping the balance wheel. Will work on most wrist and pocket watches up to hairspring seat of 1.25 mm. Note - two punches shown, Only ONE comes with the remover. By K&D, no longer made.
T1.64A $59
staff remover For large pocket watches K&D 50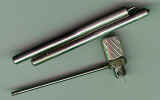 Instructions for use (pdf format)
pocket watch staff remover

to be used in your staking set to safely remove the balance staff for pocket watches with hairspring seat over 1.25mm. Good used. For details on how to replace staffs, see my CD lesson #5
T1.65
SOLD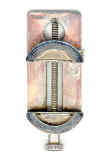 Meyer's pocket watch movement holder will hold all pocket watch movements. With quick release, good old vintage holder. Comes with inserts. Will work from wrist watch to over 18 size!
T1.65A
SOLD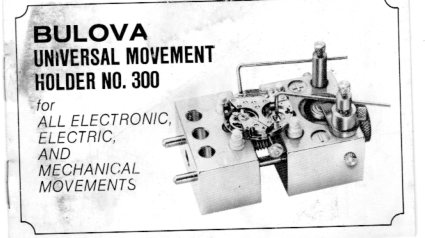 Bulova universal movement holder for ALL movements, mechanical, electric, electronic, and LARGE pocket watches - very heavy and sturdy. Just take out movable arms for mechanicals! Note weighs almost 1 pound! Not in original box. USA shipping only.
T1.66 SOLD OUT

typical pic
HR kit #52-970 Used Yellowish and white waxy-type material to fill luminous watch hands. Heat and apply with wand. Also sold as Vigor Luminous compound RS-300. Used but still enough to do a lot of hands!
T1.67 $4.95

Scribe with screw on top. Also can be used as a punch in addition to other uses. Sharp point.
T1.68 $9.95

TYPICAL
Watchmaker's anvil. May be used for staking. We have several types, some have the holes in a circle instead of rows.
T1.68A $12.95 reduced

This vintage anvil has a v-shaped cut-out that can be used for many operations. Also, staking operations
T1.68B
SOLD

Quality watchmaker screwdrivers sold by WatchCraft. This is a quality set of 7. Measure from 0.7 mm to 2.4 mm in width.
T1.69 $15.95 reduced price

Vintage Dennison mainspring gage made for quickly measuring American PW mainsprings. Pictured is typical.
T1.69A SOLD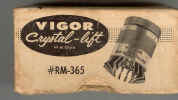 Box shown to identify item. Not included as item is used.
Vigor Quality standard RM365 crystal lift. Top quality old tool to remove plastic crystals. The jaws squeeze and compress the crystal for removing or inserting.
T1.69B SOLD

Vintage Large Electrovise brand crystal lift that can be used to insert and remove plastic crystals without removing movement from case.
T1.69C
SOLD

Vintage set of three oil cups.
T1.69D $8.95
wood oil cup, representative of our stock
Vintage wood oil cup, vintage
T1.70 $29.95 reduced!!

Patented USA roller table remover for pocket watches. The roller table must be removed before a new staff can be installed in a balance wheel. USA Patent #1941756. With punch
T1.71 $19.95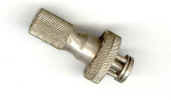 Vintage Watch hand broaching tool, not cheaper new variety. works great for pocket watch hands.
T1.71A $14.95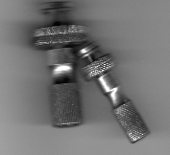 Same as above but smaller for wrist hands-at right in pic.
T1.72
$9.95

typical
tool for warming pallets and roller tables so that stick shellac can be applied to hold the jewels in place. Also, used to adjust the depth of these jewels.
Exact one you get may vary from pic.
T1.73 SOLD

Available again. Good vintage used K&D 126 pocket watch mainspring winder set. This is a quality made old used set that is no longer made. It will handle ladies pocket watches to large 18 size men's pocket watches. You need a mainspring winder to avoid setting the spring. Also, winding by hand is hard on the fingers!!!
T1.74 SOLD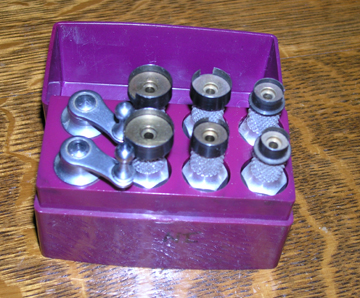 Note each winder is like one at left
Good vintage Watchcraft used pocket watch mainspring winder set. This is a quality made old used set that is no longer made. It will handle pocket watches to large 18 size mens pocket watches. You need a mainspring winder to avoid setting the spring. American pocket watches with the hole end or the T-end are much more difficult to wind into the barrel, so you need a good set of winders like this one!!
T1.74A $24.95

Vintage LG mainspring winder for wrist watches. (box included)
T1.75 $29.95 reduced

Roller jewel and Metric thickness gage, small and accurate, pic typical
Metric thickness gage. Hard to find
vintage gage for measuring roller jewels and thickness of other parts. This handy tool is slipped into the slot of the lever to give the roller jewel diameter. No longer made, genuine old quality. You need it even if you don't know it!!
T1.75B
$14.95

K&D wrist mainspring winder
K&D
mainspring winder adjusts to fit barrel diameters 5 to 8 mm.
T1.75B1
$19.00
Larger K&D winder similar to above
K&D mainspring winders to fit most wrist watch and small pocket watches with barrel diameters from 8 to 11 mm
T1.75B2 $14.95
K&D small size mainspring winder,123B sizes 4-6
K&D mainspring winders to fit wrist watches with barrel diameters from 4 to 6 mm
T1.75B3 SOLD
Set of all three K&D mainspring winders to fit barrel diameters 4 to 10 mm.
T1.75C
$8.95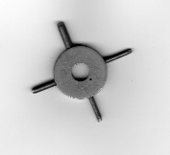 Four arm sleeve wrench for small pocket watches and some early wrist watches.
T1.75D
SOLD

Typical, color can vary!
Set of seven bracelet mainspring winders in original plastic container. USA vintage made by J. P. Schilling, Illinois. From 5 mm to about 10 mm diameter. Wind right - clockwise.
T1.77
SOLD
Bergeon Blower

representative picture
Used Bergeon blower no 30540 - A good blower is a must to remove dust and list from a watch movement!!
T1.78 SOLD OUT
Stick of plastic crystal polish, pic is representative - opened and used but 80-90% still there
Polish out scratches in plastic crystals!! This buffing compound when used with a buffing wheel will polish hundreds of crystals saving you big bucks.

If scratches are deep, then fine sandpaper can be used first, then polish with this compound.

(Refer to Lesson #8 for details)
T1.79 $19.95
Vintage Hand gauge - picture is representative of gauges
Hand gauge can be used to fit over hour hand and minute hand post to determine the size of hole needed. Also, the length can also be determined with this gage. VERY USEFUL for wrist watch and pocket watch repair. Works for all hands. Note, various hand gages are in stock, picture is REPRESENTATIVE.
T1.80
T1.80A Vigor crystal lift
OUT OF STOCK
Used, good condition. One of the best crystal inserter and puller for round watch crystals.
T1.80AA Vigor lilliput xtal lift SOLD
used, for small crystals, a scaled down version of the one above
T1.81 SOLD

used, Swiss Montros watch holder, will hold most all pocket and wrist watches, reversible, One of my favorite holders, very nice. Double sided of course.
T1.81B sold

Vintage hand held pin vise with wing nut. Use to hold broaches, stems, small parts.
T1.81C SOLD
Swiss 3C Tweezers

looks like new #3C Stainless tweezers, used
representative of our stock, a good general purpose tweezer
T1.81CC $8.95
Dumont 3C steel used
T1.81D SOLD

Dumont used steel tweezers #7 style (pic shows stype)
Dumont #7used, steel
T1.82 SOLD
Similar to above
Peer Swiss made
T1.82A
T1.83 SOLD
Vintage pocket watch hand remover by K&D. This puller will also pull off small clock hands. It is tough! Use when others fail!
T1.84 $59.95


Gaston tool used to adjust pallet jewels - very useful, in original box
T1.85 $19.95

Genuine Elgin watch oil, one of my favorites, small bottle, works very well on wrist and pocket watches. Bottle is about half full. One of the first synthetic watch oils.
T1.86 $11.95
Watch oil, enough to last years. Good for both wrist and pocket watches. Price of top brands of watch oil is now up to $100 a bottle!
T1.86AA SOLD

10 nested plastic movement holders that will hold from wrist watch up to 18 size pocket watch movements while you work on them.
T1.86A
$4.95
silicon case back grease for o-rings, gasket, etc
Case back "grease" used to coat the gasket or o-ring of water resistant watches. A must for wrist watches as the grease completes the seal.
T1.86B $8.95
LARGE Bottle of Synthetic CLOCK OIL
Clock oil, also good for lubricating watch mainsprings, winding mechanism, etc
T1.86BB $15.95 three oilers used



i instructions
Glass hypo-style oilers for wrist to pocket watch size - these are much more convenient than dip oilers. Simply suck in oil and have oil ready for application. Vary, but similar to pictured. (see instructions)
T1.86C
sold out
Swiss rub off
1-stick
this clay is used by watchmakers to remove fingerprints, to clean wheels, remove lint and debris from movements, etc. A must have cleaning aid!!!
T1.86CC
SOLD OUT

Rodico, one stick
Another useful clay to remove fingerprints, hold parts, remove lint, etc. This material is not as sticky as the above.
T1.86D
SOLD

Moebius French Clock Oil
almost 1/2 bottle of clock oil in glass bottle, good for most small clocks
T1.87 $6.95

Vintage clock hand puller needed to pull friction fit hands
T1.87A $12.95

Another style vintage clock hand puller
T1.88
sold

5x/10x folding magnifier
T1.88A $7.95
Set of 5 broaches
Five used French cutting broaches from 0.5 mm to almost 2.5 mm. This set has knurled heads so you do not need to use a pin vise!!
T1.89
$9

Vintage pallet tool to hold pallets (levers) to heat to melt shellac in order to reset the jewels in the pallet.
T1.90 $19

Small 2 1/4 inch diameter wire basket for cleaning watches. Made for L&R machines and similar type.
T1.90AA SOLD
Similar to above but large L&R basket
2 7/8 inch basket, three inserts, can clean 3 pocket watches at once, sometimes called clock basket
T1.90A SOLD

Two oil cups on wood stand. Used, but in good condition.
T1.91 SOLD
Bulova tool to push mainsprings into barrel.
T1.92 $9.95

Behr watchmaker loupe with 1 lens, can be attached to most glasses. A classic USA made product. Slightly different than product described to left.
T1.92B
SOLD

double loupe Behr (clip on different than pictured) see above
Nice double loupe Behr. Similar to the one shown at left, but attaches to glasses slightly different - see above.
T1.93 SOLD

Brush with fiberglass bristles for use in removing rust from wheel and steel watch parts
T1.94 $75

Small brass watch depthing tool that can be used to set the depthing of watch gears. This is an antique tool. Use to make sure gears are not engaging too deeply. If you ever want to make your own watch, you need it!!
T1.95 A $24.95

Good vintage ring stretcher.
T1.96 $24.95

Metallic
Watch case vise
MASSIVE Aluminum VINTAGE Case vise to hold waterproof watches and other watches with screw back. These case backs are too tight for one to hold the case in your hand. Also, works to hold pocket watch movements.
T1.96A SOLD

Nice condition and newer aluminum case vise to hold case while opening. Also can be used to hold large movements.
T1.96B Sold

Another aluminum case holder that fits in a bench vise. I often use this type myself.
T1.96C
SOLD

Plastic case or movement holder for pocket watches. Two sided
T1.97 $9.95

Seldom seen punch to remove cylinder plugs from the staff of a cylinder escapement watch. Also useful for other tasks. Note the shape of the end. This is a small hand punch, not a larger punch for a staking set such as a K&D.
T1.97A

SOLD
Genuine K&D Cylinder PUNCHES
Scarce set of K&D 2,3,4 punches for removing cylinder plugs, good punches, not broken - use in your K&D staking tool
T1.98 $9.95
Vintage
Balance tack
The hole in the balance cock is placed over the pointed end of the balance tack. Then, the hairspring can be removed or examined. Also, balance screws can be removed.
Watchmaker LATHES and Accessories
L1 SOLD
pic coming soon
Faceplate for ww type lathe
8 mm face plate with centering plunger for holding miscellaneous watch plates etc. Has three grips to hold plates. Good condition.
L1A watchmaker lathe filing rest
SOLD
see above. Instead of the post in the tool post, this filing rest goes into the tool post Has roller so that file will glide over top.
L2 $9.95

several available, not all alike but similar
Small vintage burnisher used to polish small pivots on staffs and small gears
L3 $5.95

TWO Old gravers, similar to picture, with wood handles, most natural wood color. Nice to use for engraving or for cutting brass and steel on the watchmakers lathe. Limited quantity.
L3A $19.95

use with watchmaker lathe
Waller Carbide tip graver, tip can be resharpened many times
L3B SOLD
several available, not all alike
Old Vintage Tool with burnisher on one side and very fine file on other side. Use for cutting down pivots and polishing pivots, watch and clock.
L4 $39 reduced!!!

Set of 8 "jewel" chucks with screw in stops, 5 mm outside diameter. These fit inside a standard
50 ww lathe collet. They are very useful for holding small stock, jewel settings, and a hundred other items that need the depth adjusted. Also, take this collet in and out of the lathe without removing the large collet.
L4A $34.95
Same as above, except 7 jewel chucks in wood container
L4B $29.95
Same as above except 6 jewel chucks in wood container
L5 SOLD OUT

pocket watch crown chucks, use to hold pocket watch crowns in lathe to enlarge hole in crown so it will fit properly over pendant post
L6 $29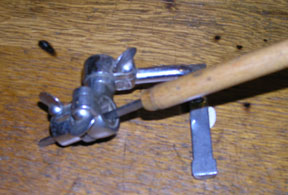 Graver sharpening tool allows adjustments to any angle. Simply slide over stone to get the exact point and angle on graver. Note, graver not included
L6A SOLD

pivot polishing tool to be used with lathe. Use diamantine or other polishing material to polish watch and clock pivots.
L7
sold

Vintage Moseley-style #4, 8-mm wheel chuck, made by Boley. The Moseley chucks are a little longer than the standard ww-style 8-mm. However, I use them with a spacer in my draw bar in my ww-lathe. Diameter 22.4 mm.
L8 SOLD
see above
Same as above but is a #2. Diameter of wheel (max) is about 22.0 mm.
L9 $5

Use in lathe to hold circular saws, etc
watchmaker lathe accessory to be inserted in split collet to hold small circular saw blades, etc.
L10 $19

balance wheel balloon chuck
Balloon chuck to hold the balance wheel while you work on the pivot. Will hold balances up to 7/16 inch in diameter
L10A $29

larger balloon chuck
Larger Balloon chuck will hold balance wheels up to 5/8 inch in diameter
L11
SOLD
Moseley 8 mm lathe split chucks for watchmaker lathe are slightly longer than ww, but you can use them in ww if you use a spacer
SOLD OUT
L12
L13 SOLD
Burnishe
r (typical)
used to smooth metal parts while turning them on lathe
L14 $15
Small very smooth and hard red stone about 7 mm wide and 2 1/2 inch long for balance staff final smoothing before polishing
L15 $9.95

Small stone, not as fine as above for grinding down small pivots such as balance staff pivots. Cross section about 3.5 mm square and about 1 1/4 inch long
L16
$9.95 EACH
8 mm WW-lathe collets, specify size wanted via separate email to watchdoc@watchdoc.com
These fit Boley, and other WW-style lathes (not Moseley)
available sizes are
#2,3,4,5,6,8,10,12,14,16,18,22,26,28,36,48