POCKET WATCH CASES
C1.31

$45

18 size American Keywind Keyset case circa 1870-1880, nickel (silveroid), case plain polish, no dents, dust cover missing, but saves you from having to open it! Gold hinges! New glass xtal, ready for your 18 size movement. Most Elgin, Illinois, Waltham, etc keywinds will fit.
C1.32

$69

16 size ygf hunting case, 25 year, even wear with good hinges, only very minor wear thru of gold in couple of inconspicuous places, complete with crystal and bezel, Wadsworth Pilot.
C1.33

$35

16 size screw back and bezel nickel case, with slot for lever set

railroad watches

. Marked inside Keystone, Cased and Timed by Elgin. Will also work with pendant set movements.
C1.34 $25

Keystone nickel 6 size American open face case, screw back and bezel, appears to be old factory new case
C1.34A

$35

American screw back and bezel by Philadelphia case company, threads very smooth. 16 size, no dents, stem snaps into setting position properly. Good crystal. Marked Silverode
C1.35

$45

Case, 6 size, hunting case, good hinges, with bezel and crystal. Most any American 6 size movement should fit this case.

C1.36

$29

18 size screw back and bezel nickel case, with slot for lever set

railroad watches

. Marked inside Keystone. Will also work with pendant set movements.


C1.36A

$29

Dueber 18 size Silverine (nickel alloy) case with hole cut for keywind watch.

C1.36B

$29

Nickel American 18S Keywind-Keyset case. Hinged back and bezel. Back hinge needs work. Also, some waviness in back cover. Case made by Keystone. With a little work, could be a nice case.

WATCHMAKER TOOLS-Mostly Good condition used tools
T1.37 $12.95

NEW

Watchmaker's

super precision

screwdriver set of high grade nickel chrome molybdenum steel

. These seven screwdrivers are in sizes 0.6 mm, 0.7 mm, 0.8 mm, 1.0 mm, 1.2 mm, 1.4 mm, and 1.6 mm with double ended blades that can be replaced. This range covers most watch repair needs both wrist and pocket watches.
T1.37A

$7

Roller remover for wrist watches and small pocket watches. Simply slide the device between the hub and the roller table and press to remove the roller table.
T1.37AA

$9

Replacement inner oiler "needle" Bergeon No 2718P for automatic oiler. New, No 2718/1A
T1.37B

$85

GS Vintage Crystal

Inserting Tool

for Pocket Watches

Used, but super condition GS Crystal inserting tool for inserting plastic crystals from pocket watch size down to wrist watch size. In wood box, all complete in top shape. This is equivalent to the $200+ tools sold today, in WOOD Box. Shipping is $10.00

T1.37C

$8

Rubber tool to help open pocket watch screw on case backs

T1.37D

$8

Quality old French round nose pliers used to bend mainsprings etc

T1.37E

$30

7 Round Punches for K&D

staking sets

,

Round

, 112,113,114,115,116,117,119

T1.37F

$9

Spring activated pallet tool (top view)
Old quality made pallet tool useful for holding pallet while heating. The pallet jewels are typically held in place with stick shellac which must be heated to adjust or to remove or insert.
T1.38

$4

Quality made one end pin-vise, use to hold small broaches, etc. 3.5-inches long
T1.38A $12
Nice used two sided

movement holder

. This superior quality movement holder will hold wrist to 12 size pocket watch comfortably.
T1.38C

$19

old Sleeve wrench, 10 arms and all are good. This tool is used to remove the sleeve out of the pocket watch case. The sleeve holds the stem in place in American pocket watches. This tool is also used to adjust the depth of the stem. This adjustment is needed if the watch is not winding and setting properly.

T1.39 $59

Old

mainspring winder

for pocket watches, this tool is used to wind in springs without damaging the spring and is a needed tool. Some surface rust will clean up good.
T1.39A

$35

Bausch and Lomb watchmaker clip on Loupe, one lens is tinted. Used, good as new.
T1.39A1

$2

Eye loupe for magnifying watch movement. Basic black plastic hand held loupe that has been a basic tool for watch repair for generations. NEW
T1.39AA

$29

Swiss, NEW, NEVER USED, 14-arm sleeve wrench. This is the best sleeve wrench I have ever had. You need one too if you work on American pocket watches. Use this one to remove the sleeve in American pocket watch cases of all sizes!! Solid brass ring with steel 14 arms.
T1.39AAA

$19

Large SUC type crystal lift. Will lift and insert crystals from wrist to pocket size. Also can be used to clean out bezels. Used, made in USA by SUC. Note retail is $59!
1.39B

GS crystal gage

$5

Crystal gage for measuring fancy and standard watch crystals. Very useful tool!
T1.39C

$35

Metal base plate with feet made to attach to watchmaker's lathe. Has holes for motor. With this set-up, your lathe and motor are portable. A really great feature.
T1.39D

$5 each

$5 each
watch assembly rings for pocket watches, these are two sided and are the best movement holders for assembly and disassembly. State size, 18, 16, 12, 6, 0, 3/0 size. Used, not available new. I use these myself. They are the best holders to use in my opinion.
T1.40 $10
Set of 2 old gravers with handles, nice to use for engraving or for cutting brass and soft steel on the watchmakers lathe.
T1.41 $19
ROLLER Remover, adjustable pocket watch size, fits as a stump into your staking set, also has a punch to drive off roller while balance is held in stump
T1.41A $2.95
Watch case opener knife, great tool for prying open both pocket and wrist watches, with handy hole in handle so you can attach to your watchmaker's bench.
T1.42 $19
hand caliper used to hold balance wheels and other wheels while straightening - these now cost $60 new!
T1.42A $5
set of six small broaches for watches, use to open holes (small ones), Very useful for watchmakers.
T1.43 $7
watchmaker's/jewelers hammer with one side of the head being brass and the other a tough acrylic plastic. Wooden handle. Use with staking set, etc. Always use a brass hammer on steel punches to avoid damage.
T1.44

$59

Super quality Levin poising tool in case. This is a top quality vintage tool made many years ago, no longer available.
T1.45 $15
K&D 123B adjustable wristwatch mainspring winder, adjusts for barrel diameters 4-6 MM, in original box.
T1.46

$9

Quality steel Flat nose pliers made in Sweden. Good used top quality.
T1.47 $8
Old Poising tool with steel jaws, this tool is used to "balance" a watch balance wheel so that it will keep good time in all positions, very important for railroad grade pocket watches. Needs some adjustment to level jaws.
T1.47A

Sold

Screwdriver holder to make sharpening the blade easier. The screwdriver is pushed into the slot between the wheels where it is spring loaded. Then, the wheels are rolled over a flat stone to sharpen the screwdriver blade.
T1.47C
$5
Oil cup with plastic lid for holding oil for wrist and pocket watches.
T1.47D $19
Pocket watch jewel pusher. This tool is required to push out balance jewels which must be cleaned thoroughly for the watch to run accurately. Old, no longer made.
T1.48 $35
Set of three K&D mainspring winders No. 123X-3 in box, one adjustable 4-6 mm, one 5-8 mm, the larger adjusts 8-11 mm barrel diameters. These sizes will work for wrist and small pocket watches.
T1.48A $6

A blower is a necessary tool. Lint and dust must be removed from watch movements. Even a very small piece of lint can stop a wrist watch, especially a small ladies movement.
T1.49B $6
NEW.

Watch Opener vise to hold the waterproof watch case while you open it with the wrench above. This wood vise is double sided and will hold most watches. Useful with the tool 1.50 to hold watch. Often back is too tight to hold the watch case in your hand.
T1.49C $8

NEW

- Watch case holder vise all aluminum, useful to hold wrist watch case while opening with screw back case opener. Will fit in a bench vise to hold those really tough diver's watches etc. Use with 1.50
T1.50 $12.95

NEW Jaxa style

Watch Opener wrench with three adjustable jaws that can be used to open screw back waterproof wrist watch cases. With 4 sets of pins. This opener does a good job for the money.
For professionals who will be opening thousands of cases, I suggest T1.51 or T1.51A shown below.
T1.51 $39

Quality USA made professional grade LG Master case opener wrench with extra sets of 3-pin jaws to open most waterproof cases. Very good used condition.
T1.51AA
$25
Same as above, but no extra sets of pins for jaws - used
Quality USA made professional grade LG Master case opener wrench with
one set of pins. Others can be obtained, but most watchmakers only use this set
T1.51A $19

Vigor CD-629 rugged professional case opener. This opener can be turned over for another set of jaws. This is a quality used case opener and will work on most screw back waterproof wrist watches. New cost is quite a bit more, but this one is as good as new.
T1.52
$9
antique pin vise
Quality made brass and steel pin vise, 3-inches long. End screws to close down on broaches, etc. This one is very old!!
T1.53 $10
Vigor sleeve wrench
New, never used, 6-prong sleeve wrench no. 709 in box
T1.54 $15
six upper latch case springs for hunting case pocket watches.
T1.54B $15
six assorted lower, lift, case springs for pocket watches
T1.55 $15
Cleaning machine jar
L&R glass jar for L&R type watch cleaning machines. Marked L&R on glass.
T1.56 $1
25

Used

Seitz jeweling tool

, useful for replacing jewels in wrist and pocket watches, with cutters, reamers, pushers, etc. Hundreds of other uses such as for replacing hands on pocket watches, etc. Similar to a staking set, but with specialized precision stops to prevent breaking delicate jewels and other parts. Set looks like pictured set, but is missing 3 or 4 stakes. Has all reamers except one.

Shipping is $15 in USA
T1.56A $5
Dumont Swiss tweezers
good used pair of Dumont 3C Swiss made tweezers, good points, exc. condition. Dumont is one of the premier makers of tweezers, ask any watchmaker!!! Tweezers are to a watchmaker what a hammer is to a carpenter. Dumont has a good feel and will last a lifetime. The points of tweezers should be "stoned" to keep them in top shape.
T1.56A1 $7
Dumont Swiss tweezers, 3C, nonmagnetic
good used pair of Dumont 3C Swiss made tweezers, good points, exc. condition.
This pair is nonmagnetic so you will not need to demagnetize.
T56A2 $6
Dumont #5 sharp points,
used, these sharp pointed tweezers are good for hairspring manipulation, etc
T1.56AA $4
Newall Swiss Tweezers
good used tweezers, style C, steel, good points
T1.56B $5
Swiss tweezers
Style 4, used
T1.56C $4
Sanding and buffing sticks - four different from rough to very fine
Used to shape plastic crystals, remove rust from steel parts, finish parts, remove scratches on stainless and gold cases and bands, and 1 million other uses
T1.57 $4
Screw head file

, used. You need this file to clean out the screw slot for pocket and wrist watch screws. Also used to make slot for new screws. Can be used to lighten the balance screws to make pocket watch run faster. Note for this purpose I prefer undercutters.
T1.58 $6

Antique small sleeve wrench with rotating head, three good prongs, one damaged
T1.59 $4
Good Swiss tweezers, shaped like 3C used
Swiss Tweezers, good points,
shaped like 3C
T1.60 $4.95

Movement gage

.

A MUST have tool.

You use this gage to measure the size of all watches, both Swiss and American. Just measure the diameter across the dial and observe marks to indicate pocket watch sizes from 18 size on down to wrist watch sizes like 6/0, etc. On the back it can measure Swiss sizes, typically measured in lignes. Gage shown is typical, the one you receive may not be exactly the same.
T1.61
$59
Magna-Flux Professional Demagnitizer
Magna-Flux Instantaneous Demagnetizer by B. Jadow inc can be used to demagnetize small tools and watch parts. This is a used professional watchmakers tool that cost almost $200 new. Note that when the hairspring of a watch gets magnetized, the watch runs very fast as the hairspring sticks together.
T
1.62 $7
Best Fit hand gage similar to one pictured, rapidly determine the size and length of both the hour and minute hand of wrist watches. Watch hands can be a pain to fit, this gage makes it much easier.
T1.63
$25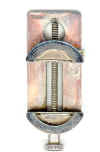 POCKET WATCH MOVEMENT holder

for holding movement while you are disassembling or reassembling. Vintage used Meyers No 58 movement holder, push release button for rapid adjustment to fit all pocket watches from ladies pendant watches to over 18 size. Then use screw adjustment for snug fit.
T163.A
$7.00

NEW Watch assembly and disassembly MOVEMENT HOLDER, 4-sided, 8 in one holder, nickel plated brass, holds all wrist up to small pockets
T163.B
SOLD
$5.00

Aluminum 2-sided wristwatch movement holder needed to hold movement while you work on it!
T1.64 $39
K&D 50A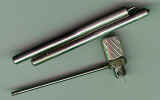 Bracelet (wrist) watch staff remover

to be used in your staking set to safely remove the balance staff without warping the balance wheel. Instructions included. Note - two punches shown, Only ONE comes with the remover. By K&D, no longer made. Good used.
T1.65 $39
K&D 50
Looks same as T1.64 above, just a little larger hole in punch for larger pivots.
Pocket watch staff remover

to be used in your staking set to remove the pocket watch balance staff without warping the balance wheel. Instructions included. Used, no longer made. One punch.
T1.66
$7

NEW Movement holder

, two sided, one side holds wrist watches, the other holds

pocket watches

up to 18 size! You need this tool so you can assemble and reassemble the movement.
T1.67 $10
Clock bushing hole closing punches, set of 6 in wood box, French, old LIKE NEW
T1.68 $19

Quality Vigor anvil with holes and v-slot. This useful tool is used for staking and for adjusting watch parts.
T1.69 $19

Old quality Vigor Swiss made crystal lift used to remove and to insert plastic wrist watch crystals. Used, great condition.
T1.70 $25

Patented USA roller table remover for pocket watches. The roller table must be removed before a new staff can be installed in a balance wheel. USA Patent #1941756. With punch
es (not shown), Used but exc condition
T1.71
$19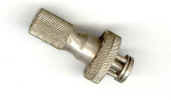 Watch hand broaching tool.

This tool is a

MUST HAVE TOOL

to enlarge holes in wrist and pocket watch hands so that they will fit tightly if too small. The tool has graduated holes and clamps the hand in place so that it can be broached.

Also can be used to hold roller tables, etc
T1.72
$9

tool for warming pallets and roller tables so that stick shellac can be applied to hold the jewels in place. Also, used to adjust the depth of these jewels.
T1.73 $49
Small Jewel collets for your lathe
Set of 8 chucks with screw in stops, 5 mm outside diameter. These fit inside a standard
50 ww lathe collet. They are very useful for holding small stock, jewel settings, and a hundred other items that need the depth adjusted. Also, take this collet in and out of the lathe without removing the large collet.
T1.74 $69

K&D POCKET Watch mainspring winders
K&D pocket watch mainspring winder set #126 in the original box. This is a quality made old used set that is no longer made. Only one available, get this one before it is gone!! It will handle ladies pocket watches to large 18 size mens pocket watches. You need a mainspring winder to avoid setting the spring. Also, winding by hand is hard on the fingers!!!
T1.74A
$69
Professional L&R demagnitizer. You need a quality demagnizer to demagnite watch parts, especially the hairspring. When magnetized, the watch will run very fast. Also, needed to demagnetize tools such as screwdrivers and tweezers so that screws and small parts will not stick to them.
T1.75
$19

Roller jewel and Metric thickness gage, small and accurate
Metric thickness gage. Hard to find Swiss gage for measuring roller jewels and thickness of other parts. This handy tool is slipped into the slot of the lever to give the roller jewel diameter. No longer made, genuine old quality. You need it even if you don't know it!!
T1.75B
$10

K&D
bracelet mainspring winder adjusts 5 to 8 mm, NO 123 in paper box
T1.77 $5
watchmaker files
set of 10 small needle files, great condition
T1.78
$7
Stick of Crystal Polish
for PLASTIC Crystals
Polish out scratches in plastic crystals!! This buffing stick when used with a buffing wheel will polish hundreds of crystals saving you big bucks.
If scratches are deep, then fine sandpaper can be used first, then polish with this compound.
T1.79
$10
Antique bench key will wing many pocket watches. One end damaged (the one for male stems or keywind watches,which is not often used)
T1.80
$25

Universal or Bench winder for pocket watches, up to 18 size. Rotating head has a stem to fit most all pocket watches. Use this tool to let down the mainspring power or to wind movement when it is out of the case!! A must!!
T1.81
$25

used, Swiss Montros watch holder, will hold all pocket and wrist watches, reversible, One of my favorite holders, very nice
T1.82 $4
Swiss Dip oilers
Set of three old Swiss dip oilers to oil pocket and wrist watches
T1.83 $20

K&D pocket watch hand remover. Not a cheap copy!!
Only one in stock.
T1.84 $7
USA made stainless general purpose watchmaker tweezers
T1.85 $10
Wrist watch oil
Hamilton PML 92 wrist watch oil, bottle in original box
T1.86 $4
watch oil
Old bottle, only small amount of Mobius Watch Oil, but will oil hundreds of watches
T1.87
Bow opening and closing pliers for pocket watches. This old pair works very well and is a must if you work on pocket watches. You cannot afford to have a loose bow as it could fall off breaking the watch.

MISCELLANEOUS parts: BALANCE's, ENAMEL DIALS, pocket watch parts, etc
M0 $25
Old grill for use with WWI style trench watches. Grill measures 34 mm across, 46 mm top edge to bottom edge.
M1 $10
twenty assorted round glass wrist watch crystals, new.
48 new plastic crystals

M1A $19

Four dozen (48) all different new plastic high-dome round watch crystals. If you collect or repair wrist watches, you need this assortment. You get one of each from 22.6 mm (millimeters) to 32.0 mm in steps of 0.2 mm. Each crystal is individually labeled. This assortment will handle a majority of round crystal needs.
M2 $10
Assortment of 20 American Pocket watch ratchet wheels
M2A $2
NOS, 16 size Elgin Mainspring, blue steel
M2B $2
16 size Elgin escape jewel, plate
M3 $2
NOS, 8/0 Elgin durapower mainspring
M3A $7
Waltham 18S, 1892 model, recoil clicks
M3B $8 pair

16s hands

Pocket Watch Hands, 16S, Railroad style, fit

Illinois, hole 1.65mm x 0.9 mm

M3C

$5 second hand Waltham

16 size Waltham pocket watch second hand
M3D Waltham aircraft clock stem for CDIA $55
Custom made stem for Waltham CDIA WWII aircraft clock. These stems were often broken off and are unavailable. This one is a very good reproduction.
Waltham wrist watch enamel dial

M4 $25

Mint new old stock 3/0 Waltham circa WWI enamel wrist watch dials with a red numeral 12. Very limited quantity left.
Hamilton Military Dial

M5 $35

Mint new old stock 6/0 Hamilton 987 WWII wrist watch dial for

military watches

. Many dials made for the military were required to be unmarked. Only one available, order now.
Waltham military dial

M6 $35

Mint new old stock 6/0 Waltham WWII aviator's wrist watch dial, 1942, sweep second. Only 2 left.
Waltham military dial

M6A. $25

Waltham A17 black aviator military dial. These watches were issued shortly after WWII. New old stock. (4 available)
Elgin military dial

M7 $35

Mint new old stock 16S WWII Elgin BW Raymond 24 hr white enamel dial. This fits the early 22 jewel (marked 21j) Army Aircorps model with the sweep second hand. This dial is much rarer than the black (metal painted) dial that is usually seen on these watches. Very limited quantities.
aircraft clock dial

M8 $35

Mint new old stock Elgin 1 7/8 inch diameter aircraft clock dial. Only one left.
M9 $10
25 Assorted fancy plastic SUC crystals in the original envelopes
M10 $7
16 size Elgin 4 th wheel (one that carries the second hand) fits most of the post 1900 7 jewel to 17 jewel models
M11 $20
16 size Hamilton 4 th wheel (992 and most other Hamilton 16 size except 992B)
M12 $5
twenty-five assorted square plastic xtals, new, but not marked, mens and ladies styles

M13 $69

Balance Complete

for 21 jewel Elgin BW Raymond 16 size Railroad Watch grade 571 (only one available)
M14 $39

Elgin 16 size balance wheel complete,

double roller, fits most models 7 to 17 jewel
M15 $19
Bulova wrist WWII military Balance complete for movement 10AKCSH (Aviator's watch, etc)
M16 $39
Illinois 6/0 balance wheel complete, genuine new-old stock Illinois circa 1920's!
M17 $39
Waltham 6/0 balance wheel complete, fits most '42 model WWII military watches
M18 $65
Chelsea ship clock Balance Wheel complete for movement 12EI (other Chelsea platform parts available on request)
M18A $99
Hamilton 992B Balance wheel complete
M19 $20
Chelsea ship clock escape wheel for movement 12EI
M20 $25
Chelsea ship clock pallet for movement 12EI
M21 $15
Assortment of 12 pocket watch roller jewels
M22 $10
Five glass bottles with dial washers for wrist watches up to small pocket watch size (0 size). Dial washers are needed to hold the minute wheel (and the attached hour hand) in place under the dial.
M23 $25
1 dozen Assorted old sleeves for American pocket watch cases. These are getting harder and harder to find.
M24. $8
Hamilton 4992B, set spring part 35012
M25. $3 for 3
stems, specify company and model from list
AS1802, FF60, FF120, FEF6600, AS1361,AS1538, AS1200, AS1491,Gruen 275, Gruen 510, Gruen 285, Bulova 6AH, ETA1080, ETA1000, Bulova 6BK, AS120,ETA1000,Samoi P62, ETA900, FEF6620, Bulova 6BO, AS1320, AS1240,AS1187,Gruen285, Bulova 6AH, Pesseux330, EB1612, AS1700, ETA 2782,
M26
M27
M28 $5.00
Bestfit Assortment 26P waterproof pendant posts for wrist watches

M29

M30

$25

Mint, Elgin 12 size metal dial of the type popular in the 20's. These fancy metal dials were more expensive than the enamel and more hip at the time!! New old stock.

M31

Railroad Waltham dial

M32 $15

Waltham 16 size Railroad dial, double sunk, has hairlines etc, but still not too bad.
Elgin Railroad

M33 SOLD

This 16 size Elgin railroad dial is often found on the BW Raymond. There are a few minor hairlines and a small chip outside of view on the edge between 7 and 8.
M34

$15

Elgin 16 size military dial

This new old stock Elgin military dial will fit a standard 16 size Elgin movement. It converts the watch to one that winds at 6, so that it can be dash mounted and used as a small vehicle clock, etc.
M35

$19

Elgin circa WWI wrist military enamel dial

Here is a hard to find glass enamel military Elgin wrist watch dial circa WWI. Small repaired chip at 8. Nice looking. Dress up your old vintage Elgin wrist watch.